Emerald Dreams - An apartment at Emerald Dreams can be your "place in the sun".
After the success and customer satisfaction we achieved with our projects Emerald Park and Emerald Towers we as, Toroslar Construction, proudly present our latest project to you.

Emerald Dreams is located in Avsallar, which is home to Alanya's most beautiful beach. Avsallar is 22km from the Centre of Alanya and has many 5 star hotels, beach clubs, and luxury residences.

This unique Complex located in Avsallar has amazing sea views. Avsallar is the quickest developing district in both Alanya and Antalya and is also the district most suitable for investment. With its unspoilt natural beauty, brand new shopping canters, restaurants, and busy daily life, Avsallar is some where you will enjoy living.

It is only a five minute walk from your home to the most beautiful beach of Alanya 400 meters away. Also you will have the opportunity to take long walks in the pine forests of Avsallar and enjoy the oxygen rich air. With our project we are presenting you with the chance to live a safe, peaceful, luxurious and comfortable life.

Another advantage of Avsallar is that it is only 50 minutes from the Alanya- Gazipasa airport. This airport is expanding each year and providing the opportunity to fly many different countries, it is also increasing the economic value of the area.

Emerald Dreams shall be built on 12,000 m2 and shall consist of 184 apartments. In our project there are 43 1+1 apartments, 101 2+1 apartments (each with an en-suite bathroom), 19 studio apartments, and 21 penthouse apartments.

In our project there are many opportunities presented to ensure your safety, comfort and enjoyment. Amenities such as Fitness centre, Spa and wellness centre, a restaurant, games room, cinema, tennis courts, kids club, swimming pools, Barbeque areas, shops and hairdressers, are all included for your benefit. Also all bathrooms in our Emerald Dreams project will have underfloor heating as standard.

Also in this project we have made some adjustments to ensure that people enjoying themselves and people who are resting do not disturb each other. For example we are adding another swimming pool for the water slides, meaning there will be a calmer and more peaceful environment in the swimming pool and sunbathing area. We are also going to place the water slide pool, the children's pool, kids club, play area, tennis court and barbeque areas close together to make them more usable.

Also in our new project there will be a closed car park for the property owners with vehicles. This way they will be able to leave their vehicles in a more secure environment. We are inviting you to a brand new life where your dreams will come true.


"An apartment at Emerald Dreams can be your "place in the sun"
TECHNICAL DETAILS
LEISURE FACILITIES
• Swimming pool & Children's pool and Children's playground
• Separate waterpark pool and waterslides
• Turkish Bath
• Massage Room
• Sauna
• Fitness centre
• Heated indoor swiming pool
• Steam Room
• Tennis Court
• Billiards and Table Tennis
• Kids Club
• Play Station Game and Tv Screen
• Power Generator for possible Power Cuts
• BBQ Areas with Pergolas
• Wireless Internet in Common Areas
• Restaurant
• General Storage
• Cinema
• Golf Simulator

PARKING
• Car parking space
• Indoor Car Park
• On-site Car Park


SECURITY & SAFETY
• Audio-visual Door Phone
• Separate flat for doorman
• 24/7 Security in the complex
• Gardeners and Caretakers


GENERAL
• Central TV-Satellite System with most European Channels
• Lifts
• Air pressured water
• Electricity generator
• PVC Windows Double Glazed
• Built-in Spot Light in Living Rooms and Kitchens
• Solid steel entrance door
• American style internal doors
• Heat Resistant walls
• Recessed Spot lights
• Feature coving and skirting
• Ceramic tile flooring in all rooms
• Each Room Includes Air Conditioner

KITCHEN
• Custom designed modular kitchen furniture
• Granite worktop
• Ceramic floor tiles
BATHROOM
• Bordered ceramic floor and walls
• Underfloor Heating
• Shower cabin
• Instant Electric Water Heater

BALCONY
• Well-proportioned balconies with Aluminium and glass handrail
• Ceramic flooring and external lighting

Map Data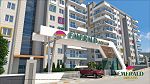 Here you can find 3D Images of Emerald Dreams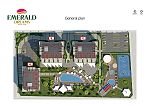 Here you can find Floor Plans of Emerald Dreams